2-camera video surveillance kit
Video surveillance kit 2 professional cameras 2 MP 1080P full hd 20m infrared, 4-channel DVR, mobile software included
2-camera video surveillance kit contains:
– 2 x External surveillance camera AHD 1080P full hd 20m IR ZAN30W-200
– DVR ROV504 5MP-N 4 channel Rovision 6 in 1 compression H265
Technical specifications
| | |
| --- | --- |
| Surveillance camera resolution | Full HD 2-2.4 MP |
| Video camera technology | AHD |
| Camera type | Interior, Exterior |
| Number of cameras / kit | 2 |
| Type of surveillance kit | interior, exterior |
| Lens type | fix |
| IR – Infrared | 20m |
| Number of DVR channels | 4 |
| DVR resolution | 1080P |
| Other camera functions | Motion detection |
Details 2-camera video surveillance kit:
                ZAN30W-200 is a 1080p full hd outdoor surveillance camera with fixed lens, 20m infrared and 24 led lens, AHD technology.
Built on AHD technology, the ZAN30W-200 video surveillance camera   is recommended for outdoor installation. It is in IP66 weather protection class  , being able to operate at temperatures ranging between -20 and +50 degrees Celsius.
sensors
The camera includes a 1 / 2.9 " ccd sensor  Aptina  FH8536 (V30E) + AR0337, the  resolution being 1920 × 1080 . It can transmit up to a maximum distance of 500m.
The camera comes with a 3.6 mm fixed lens, which is useful for areas where objects are far away from the camera. This, together with the special construction with metallic plastic housing, recommends the camera for monitoring the entrances  in institutions or blocks, parking lots, shopping centers, garages or office buildings.
In the construction of the camera we notice 24 LEDs that increase the performance of the camera during the night. The IR sensor allows the  visibility of objects in the dark up to 20m .
Functions
The camera also comes with Backlight compensation function  , it can compensate for backlighting, optimizing the automatic exposure of the camera. The camera also has an  IR-Cut filter function , meaning it offers color images during the day. With daylight dimming, the camera will automatically switch to night mode using infrared light to provide high-quality black-and-white images.
We also notice the white balance function   for the camera that allows you to adjust the colors so that the colors look as natural as possible.
The list of functions continues with  the presence sensor included , which increases the versatility of the camera.
A 12V +/- 10%, 450mA power supply is required for the operation of the monitoring camera. The power supply is not included, but the extremely affordable price makes the camera a safe option for many  limited budgets  and simple monitoring scenarios.
Specifications:
ZAN30W-200 Weatherproof full hd outdoor surveillance camera
AHD technology
sensor 1 / 2.9 ″ ccd Aptina FH8536 (V30E) + AR0337
1080P / 2MP resolution
1920 × 1080
minimum lighting 0.01Lux
transmission distance up to 500 m
fixed lens, 3.6 mm
metallic plastic housing
leds 24 pcs
infrared distance 20 m
presence sensor
white balance
Backlight compensation
IR-Cut Filter
IP66
operating temperature -20C + 50C
power supply 12V ± 10%, 450mA
power supply is not included
Dimensions 82mmx251mm (L)
Weight 461g
DVR ROV504 5MP-N on AHD technology 4 channels Rovision 6 in 1 H.265 compression. Works with any AHD camera up to 5 megapixels.
Intuitive use by using a graphical interface with icons
25fps real-time viewing on each channel at 1080P and 5MP-N resolution on AHD cameras on all channels
1080P / 14fps recording, 720P / 25fps, 960H / 25fps
H.265X video compression (reduces file size and allows recording for longer periods)
HDD storage (up to 6TB) NOT INCLUDED
Own software for live viewing on the phone through the Cloud using the application downloaded from the Phone Application Store
VGA and HDMI ports for connection to any TV / monitor
USB ports for peripherals and for quick USB backup
RJ45 port for internet connection
Contain:
Mouse
12V / 2A power supply
HDD mounting screws
Installation manual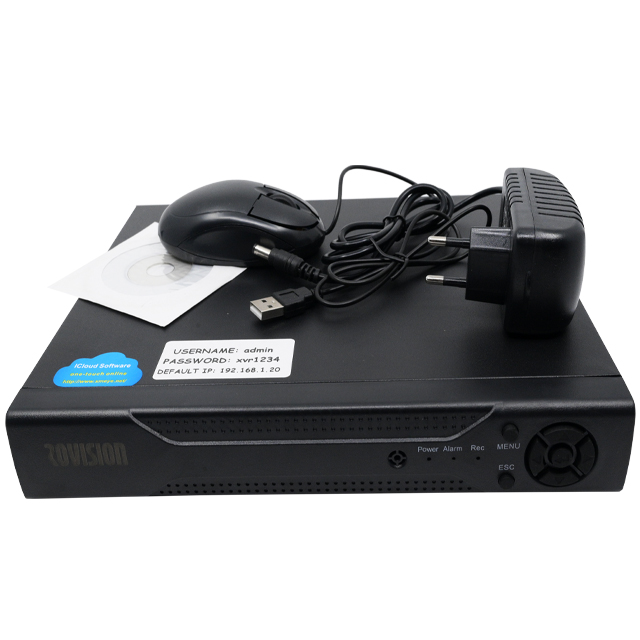 General
12V / 2.5A power supply
Power consumption <15W (without HDD)
Working environment: Temperature: 0 ℃ – + 55 ℃ , Humidity: 10% —90% , Atm: 86kpa — 106kpa
Size 233x210x45 mm
Weight 510 gr (without HDD)
Works with any AHD camera up to 5 megapixels