DVR Pentabrid 4 channels Rovision, 1080N H.265+
H.265 + / H.264 video compression that reduces video bit rate by up to 90% to reduce storage space required for video recordings
Supports cameras with HDCVI / AHD / TVI / CVBS / IP technology automatically detecting the camera signal without manual configurations
Supports HDD with a capacity of up to 6TB
View on Android or iOS phone through the Rovision Connect application available in the Play Store and App Store
Supports 1080P Lite resolution on all channels
Transmits 720p to 1200 meters on coaxial cable
Dimensions: 200 x 200 x 45 mm
Current consumption without 8W HDD
Up to 6 IP cameras can be connected
Network interface 1, RJ45 10 / M100M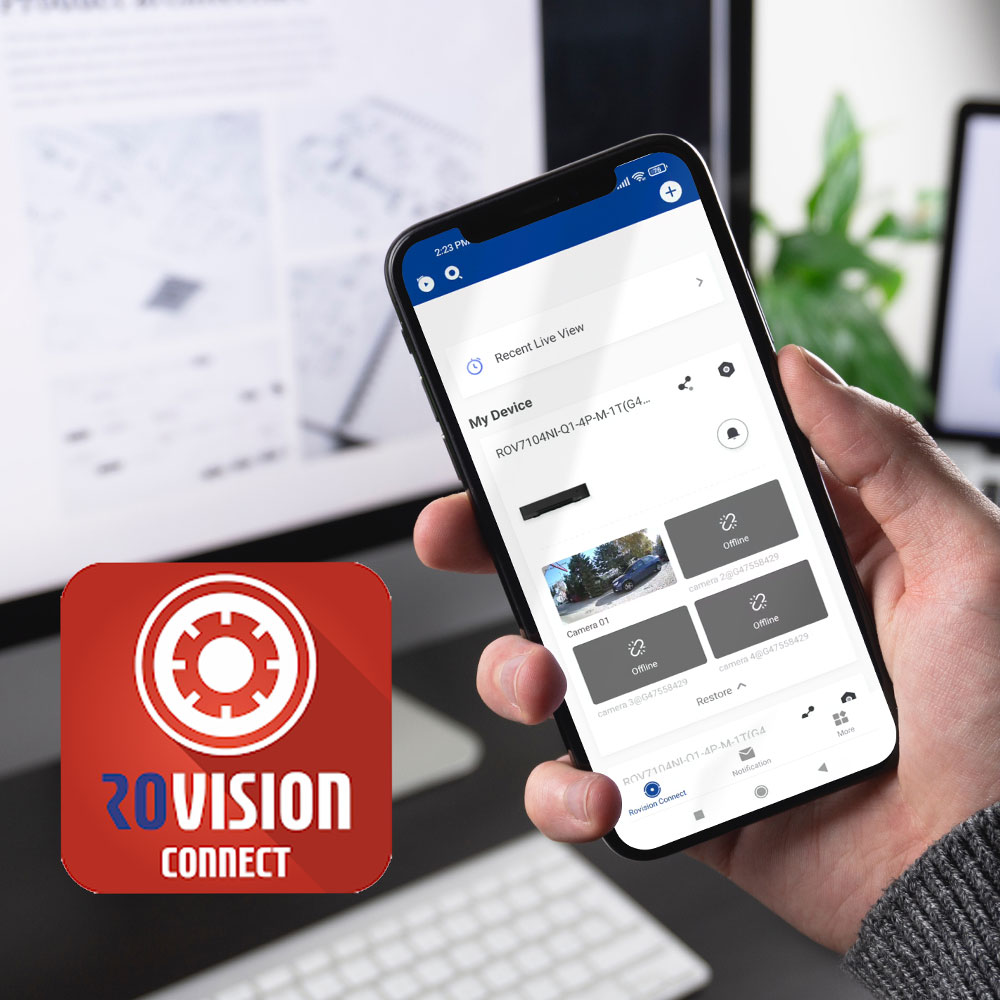 Rovision Connect mobile application
You can watch live, but also the recordings from your home or commercial space remotely through the direct application on your phone or tablet.
The Rovision Connect application that offers you for free to be able to view images remotely from any device you want, if you have internet at your location.
(Found on PlayStore  for Android and App Store for iOS).
Technical specifications
DVR RO7104
Analog Video Input
4 channels BNC
Encoding Resolutin
When 1080p Lite mode its on: 1080p lite/720p/WD1/4CIF/VGA/CIF

When 1080p Lite mode its off: 720p/WD1/4CIF/VGA/CIF

HDMI/VGA video output
1-ch, 1920 × 1080/60Hz, 1280 × 1024/60Hz, 1280 × 720/60Hz, 1024 × 768/60Hz
Video Compresions
H.264+/H.264
Recoding resolution
TURBO HD 1080p25, 1080p30, 720p25, 720p30

HDCVI 1080p25, 1080p30, 720p25, 720p30

CVBS 1080p25, 1080p30, 720p25, 720p30

Recording rate
Main Stream: 1080p lite/720p/WD1/4CIF/VGA/CIF@25fps (P)/30fps (N)

Secondary Stream : 2CIF@6fps; CIF/QVGA/QCIF@ 25fps (P)/30fps (N)

Video Bit Rate
32 Kbps pana la 4 Mbps
Audio
Audi compresion G.711u

Audio  Bit Rate 64Kbps

Input 1-ch, RCA (2.0 Vp-p, 1 KΩ)

Output 1-ch, RCA (Linear, 1 KΩ)

Auxiliar Interface
1.0 Sata port that supports HDD up to 6TB

2x USB 2.0

Overview
Consumption
8W
Working temps
From -10 up to +55 º C
Humidity
From 10% to 90%
Dimensions
265 × 225 × 48 mm
Wight
0.8 KG without HDD
Cartifications
 FCC Part 15 Subpart B, ANSI C63.4-2014 CE  EN50130-4, EN 61000-3-2, EN 61000-3-3
Internet protocols
TCP/IP, PPPoE, DHCP, Hik-Connect, DNS, DDNS, NTP, SADP, SMTP, NFS, iSCSI, UPnP™, HTTPS
Network
1, RJ45 10M/100M self-adaptive Ethernet interface
Meniu languege
 English, changeable in any language