Rovision presents the most innovative POE IP surveillance system, Plug and Play type, very easy to install. It comes with the HDD already mounted, everything is ready configured from the factory. The surveillance system includes 4 IP cameras with FULL HD resolution (1080p / 2MP).
IP technology remains the best option for the quality of the transmitted images, being rendered clearer images and with a more vivid color palette compared to other types of technologies.
The system benefits from the POE function. This feature is very important because it helps you eliminate power from the cameras. This way it will no longer be necessary to pull cables separately for power. The cameras will be powered by the NVR source, which will help you save space and budget.
The 2MP resolution and night visibility of up to 30m, recommend this system to be used in any type of space, whether private or commercial. Also, the high weather protection (IP67) makes these cameras withstand very high or very low temperatures. (-40 ° C 60 ° C)
Why is this system different from the usual ones? Because it is plug and play and comes ready configured, with all accessories included and without requiring additional settings. Basically, after installing the system you will not have to worry about anything.
Below you will find the Rovision Connect application, which we offer for free so you can view images remotely from any device you want, if you have internet at your location.
(Found on PlayStore  for Android and App Store for iOS).
See below the presentation and configuration of the system

The surveillance system contains:
1x NVR Full HD POE 1080p 25 frames each channel real time
4x Full HD 1080P IP Cameras with Metal case
1x Western Digital 1TB HDD Installed and configured
1x UTP Cat 5e cable 2 meters for NVR and Router connection
4x UTP Cat 5e 18m cable for connecting cameras to NVR
1x HDMI cable
1x  1 MP Wi-Fi Camera, 7.5 m IR, 2.8 mm, card slot, microphone, bidirectional audio
This kit is of the Plug and Play type, easy to install, hard disk already mounted, everything being configured from the factory.
Surveillance Camera POE ROV1023G0E-I 2MP Full HD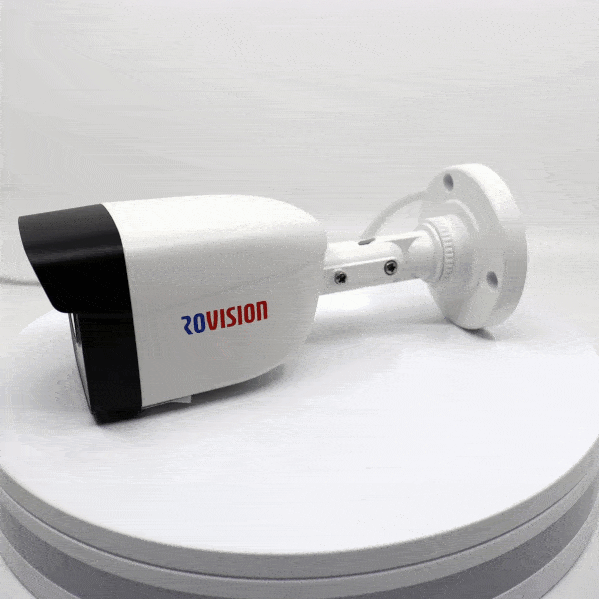 2 MP Full HD resolution
2.8mm lens
Viewing angle 114.8 °
Possibility of PoE power supply
Motion detection
H264 image compression
Image correction functions
Smartphone application
IP67 protection index
ROV1023G0E-I is a bullet-type IP POE surveillance camera from Rovision. This camera is equipped with a 1 / 2.8 inch sensor with progressive scan, with a video resolution of 2 megapixels (1920 × 1080) at 25 frames / second. The fixed 2.8 mm lens provides a generous viewing angle of 114.8 ° (tested by manufacturers).

(Found on PlayStore  for Android and App Store for iOS).